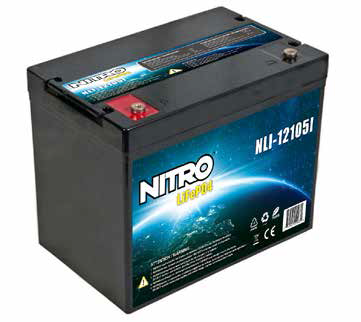 NITRO 12.8V 105.0AH LiFePO4 Battery (replaces Group 27 AGM Batteries)
Our range of NITRO LiFePO4 batteries are the ideal solution to demanding applications that require a lightweight, higher capacity than standard lead acid batteries. Dixon Med proudly offers a wide range of NITRO LiFePO4 batteries, specifically engineered to deliver high cycle life and superior performance over a wide temperature range.
NITRO LiFePO4 Series Features
Offers up to 20 times longer cycle life and five times longer float/calendar life than lead acid batteries, helping to minimize replacement cost and reduce total cost of ownership.
Super safe LiFePO4 (Lithium Iron Phosphate) chemistry eliminates the risk of explosion or combustion due to high impact, overcharging or short circuit.

About 40% of the weight of a comparable lead acid battery.
Delivers twice the power of a standard lead acid battery even at high discharge rates, while maintaining constant power and high energy capacity.
Modular design enables deployment of up to four batteries in series and up to ten batteries in parallel.
Our NLI-12105I LiFePO4 is a drop-in replacement for most Group 27 AGM models as well as most 12V 100AH batteries. To ensure 100% compatibility, please verify specifications with your representative prior to ordering.
Battery Specifications:
Voltage: 12.8V 105.0AH
Chemistry: LiFePO4 (Lithium Iron Phosphate)
Terminal: M8 Terminal
Dimensions: 305mm (L) x 169mm (W) x 210 mm (H)
Item#: NLI-12105I